We tailor our coaching to suit your needs, whether a beginner or accomplished player we pride ourselves on making golf lessons as simple, enjoyable & informative as possible, helping you achieve the maximium potential from your game.
Why Coaching?
Robert and David offer individual lessons for members and visitors covering all aspects of the game. Whether you're looking for longer drives or a more deft touch on the putting green, Robert will be able to help improve your technique and help lower your scores.
We also offer the opportunity to accompany you on the golf course for a 9-hole playing assessment. During this, all areas of the game will be looked at, and course management discussed with the idea that a package of lessons can then be built around the areas identified during the assessment.
All lessons are available to be booked online through Robert's website; robertdawgolf.co.uk where the tab in the top right corner of the screen will take you straight to the online lesson booking page.
Lessons will cover:
Golf Fundamentals
Swing Basics
Short Game
Long Game
Course Management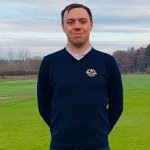 Robert Daw - Head PGA Professional
I started playing golf at the age of 11 when my parents brought me a series of lessons at my local golf club up in Hertfordshire as a birthday present. After just a week I was hooked and spent the next 2 years attending weekly coaching sessions before being good enough to be allowed out on the course with the other juniors. I reached a handicap of 5 by the age of 16 & eventually decided to turn my hobby into a career and started my PGA training at the age of 21 having reached my goal of becoming a scratch handicap golfer. I started my training at Marriott Hanbury Manor Hotel located just outside of Hertford before joining Milford Golf Club in 2013 as their Assistant Professional and moving to the Surrey area. From here I progressed to Effingham Golf Club where I have spent the last 4 years as the Senior Assistant Professional. While at Effingham I have developed my coaching and worked with a range of golfers from juniors to beginners to Category 1 golfers. My coaching philosophy is centred around keeping it simple; there is no one way to swing the golf club, it is about finding a repeatable and consistent swing focused around your own capabilities. Since turning professional I have managed to win 7 professional events, including the Foremost National Assistants Championship earlier this year. I hope to continue representing the club in events as well as offering opportunities for members to join me in Pro-Am's; away days & coaching trips throughout the year. I aim for the professional shop to provide a warm welcome to all while providing a wide range of services and products at a competitive price. Custom fitting will be available on a range of brands and using my knowledge and experience I am sure that there will always be something available to help improve your game.
---
David Nickson - PGA Professional
Bio coming soon…
---